On Tuesday, November 7, CUSA announced that the wind down of book operations at Haven over the course of the next 6 months with the closure finalized by April 30, 2024. Since the announcement we want to share additional rationale behind this decision. We've detailed the rationale below that we used to reach this conclusion.
Reasons for winding down bookstore operations at Haven:
Historical financial trends and future projections show sustaining Haven book operations is financially unfeasible.

Post-pandemic shift in student preferences towards online resources, such as e-books and digital access codes.

Increased competition from competitors offering price-matching, rental services, e-books, and textbook buyback programs which diminishes the incentive for students to buy from Haven.
The decision to wind down book operations at Haven follows extensive internal deliberations and analyzation of our profit and loss statements over the course of the last 5 years. Financially, Haven has experienced recurring deficits since the 2017/2018 fiscal year, culminating in a peak deficit of $277,098 during the 2020/2021 fiscal year at the height of the COVID-19 pandemic. While the wider economy has recovered from the effects of the COVID-19 pandemic, current fiscal projections indicate that Haven will remain in a decline for the foreseeable future. A deficit of $146,192 is projected for the current fiscal year from all operations (bookstore, cafe, and coworking), with book operations projected to run the largest deficit of $67,585.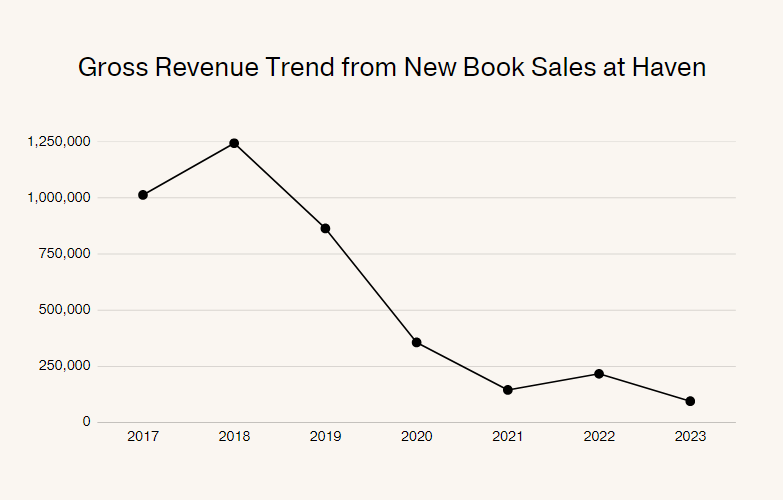 The transition away from physical textbooks is a trend that has been seen across the country, with other student unions choosing to close book operations amidst changes in consumer behaviour as a result of changes in economic and learning environments. Attempts have been made to pivot the Haven bookstore to support the shifting needs of students by creating a website to support online purchasing, e-books, delivery and expanded pick up option, in addition to the new and used physical textbooks and the consignment program already being offered. Despite these efforts, the deficit has continued to increase year over year.
As of November 7, 2023, Haven will no longer accept books for consignment and all current consignor accounts will receive direct notification by the end of November 2023. The deadline for consigned book pick-up is set for February 29, 2024, with consignor accounts remaining open until April 30, 2024. The cafe will continue its operation uninterrupted. Additionally, by the end of this year, Haven's coworking space and multimedia creator's studio, Haven Connect, on the second floor will also be open to the public. All existing student staff members will retain their positions at Haven, providing crucial support for other aspects of the business.
While acknowledging the gravity of this decision, it is imperative for CUSA's long-term financial sustainability and operational viability such as the Academic Resilience Fund, specifically designed to assist with various academic costs, including purchasing textbooks. Your education matters, and we're here to help ensure it remains accessible despite these changes.